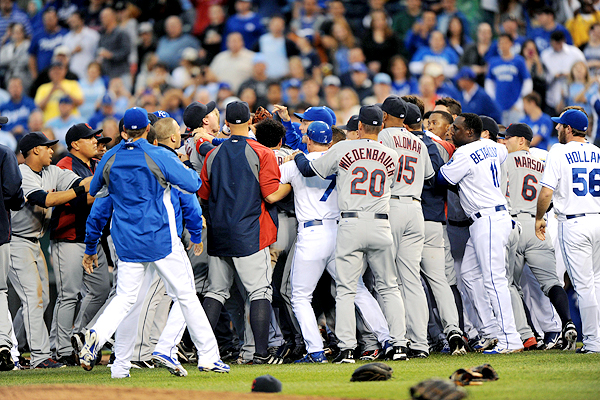 "The most important thing we do now is stay calm and stay the course."
Ned Yost, after the Kansas City Royals lost their 10th consecutive game of the season's first home stand and their 11th straight overall, 610 AM
GH: There is a time for remaining calm. It was about a week ago. After 11 losses in a row and a winless 10-game home stand? Bad things need to happen. Very bad. 
"I think Ned is trying to do everything he can. I know Ned and his staff are trying to stay calm but Whitey Herzog was not that way. I think sometimes a manager has to say something to his players."
Fred Patek, former Royals' shortstop, 810 AM
GH: Patek is a very nice guy and in his very nice way he is saying that Yost needs to go Hal McRae on his team of youngsters. Yost doesn't have much time left. It is our time to chuck an iPad at Bob Dutton tonight in Cleveland and do it while wearing swinging a bottle of hooch. Let's get this party started, Ned. Bring down the house and invite YouTube.
"Get Dan Glass out of the Royals' front office [as president]. He doesn't have the resume and he's not any good at it. The experiment and the fun is over! This is a really horrible business plan. Dan has got to go!"
Kevin Kietzman, 810 AM
GH: I do not know of a soul not related to the Glass family who thinks Dan is competent. But is he really making any decisions as to the ball club? Dan is like the special needs kid who gets to run untouched for a TD as the clock run down because the other team feels sorry for him. He doesn't even count. Sure, get rid of Danno but I don't see him as the reason the Royals are 3-12. It's the guys KK doesn't want to fire who are making the day-to-day decisions who need a head slap. Read on.
"I don't think Ned Yost deserves to be fired yet. I don't. I don't think Dayton Moore deserves to be fired yet. I may change my mind. [Fire] the hitting coach? No. You want to change the culture around there, change the top."
Kevin Kietzman, 810 AM
GH: I don't really care about "the culture." I care about winning some damn baseball games. Ned Yost is a sourpuss who is absolutely petrified when it comes to doing anything but play small ball. He was the wrong guy when Moore hired him and he is even more wrong now. 
"since 1994 (season after mr.k's death) royals have had 2 winning seasons ('94-'03) they've lost 100+ four times/franchise is pathetic!!"
Frank Boal, @realfrankboal, Twitter
GH: That is just stunningly awful. It is amazing anyone still cares.
"It's been awesome to hear boos out there some, because actually the fan base cares."
Jeff Francoeur, Fox4kc.com
GH: Francoeur would never make it as a Royals TV analyst.
"Yost said no one is getting comfortable with the losing… I would argue the fans are. And that's not a knock on the fans at all… Not many people I talked at the K tonight expected a win, that's all I'm saying."
Danny Parkins, @DannyParkins, Twitter
GH: Parkins couldn't be more out of touch with Royals' fans. He has confused genetic imprinting with comfort. 
"If the fans are positive, I don't know what they are positive about, we haven't had a lot of things go our way."
Billy Butler, Fox4kc.com
"Our Time, in our minds mostly was the All-Star game, the All-Star summer and the fact that it's coming it's getting closer and closer to us being a competitor."
Toby Cook, Royals spokesperson, downplaying the implied arrogance associated with the Royals' signature slogan for the 2012 season, Fox4kc.com
GH: So it's Our Time for the All-Star game? Give me a swift kick in the Yost! Please, do not attempt to back off from this embarrassing moment in Royals' marketing history. A campaign that I bought into and got juiced over has turned into a nightmare reminder of the organization's decade after decade of incompetence and just how foolish we Royals' fans are made to feel each spring.
"You know what this year feels like right now? 67-95."
Nick Wright, 610 AM
"[Sunday] I found myself asking parents, 'Are you going to do this to your kid? Are you going to raise your kid to be a Royals' fan?'"
Nick Wright, 610 AM
GH: Do parents have much of an influence any more over what teams their kids follow and root for? Is it all about geography? Are we Royals fans simply because we live in or around KC? Was it because George Brett was drafted by the Royals and became our Babe Ruth? Why are you a Royals fan? Leave a note in the Comments section below.
"[Hosmer's] on to something [quitting Twitter]. He's right. I'm not sure I blame him. I can't see anything positive that can come of it. Focus on baseball and forget about the goofy stuff. "
Kevin Kietzman, after the Royals' first baseman announced he was quitting Twitter, 810 AM
GH: Twitter is far more than "the goofy stuff." When KK reacts to technology like he was Don Fortune, it makes me cringe. Tweeting is not why Twitter works. Twitter is an immediate news source for any and every interest known to man…and even a few women who know how to use a cell phone. KK probably would have thought Marconi's invention was goofy stuff had he been around in the days of the cutting-edge telegraph.
"With a young team, it's very important that they go through adversity too. You have to learn how to deal with that. I think it's going to pay dividends in the long run."
Ned Yost, somehow attempting to spin an 11-game skid into a necessary evil, 610 AM
GH: This is one of the most ridiculous statements a Royals' manager can make. How could any Royals' player be so unaccustomed to adversity that they would view an 11-game skid as a character builder? This same team lost 91 games in 2011. How much freaking losing does a young player need, Nedley? 
"The way they are spinning it they are making it sound like this is good, this is part of the plan."
Nick Wright, 610 AM
"It's a great time to hit the road."
Denny Matthews, after the Royals dropped their 11th in a row, Royals Radio
GH: Matthews has been droll and almost funny during this losing streak. It is as if he doesn't really give a damn anymore and knows the Royals have no say in what he says. The radio broadcasts could become must-hear entertainment if this losing continues.
"In 1980 the Padres pulled Jerry Coleman out of the broadcast booth and made him the manager. Denny Mathews it is your time."
Greg Schaum, @Greg_Schaum, Twitter
GH: Can you see Denny managing the Royals? He'd cut out all warm-up tosses between innings, have his hitters working as if they had an 0-2 count when they got to the plate and leave in the seventh if the game was over two hours old. 
"I feel really, really bad for those guys. I really feel for those guys in the clubhouse. It's not any fun to play on a losing team at all."
Fred Patek, after the Royals 11th straight loss, 810 AM
GH: MLB players no longer are sympathetic figures to the fans. Sure, we know they hurt due to the losing but they're all millionaires who don't leave in our town or even our universe. How many current Royals even know who Freddie Patek is? 
"It's not the losing streak that wants to make me snap. It's that the Royals apparently have learned nothing from an entire generation of losing. … Anyway, I'm bitter and angry and probably incomprehensible at this point, so I'm going to take a time out. I'm tired of being a dupe. I've tried to blend realism and optimism since I started covering the Royals 16 years ago, and it's becoming increasingly difficult to argue that those two traits are reconcilable. Apparently, I was a sucker to suggest that the Royals might be a .500 team this year. … I'm angry with myself. I've spent literally thousands of hours writing about this team over the last four years, to say nothing about the time spent watching them, reading about them, thinking about them, perusing box scores of their complex league team…it's not an exaggeration to say that the Royals have simply overwhelmed the free time in my life. If they continue to suck the life out of their fans, I'll find something else to do with my time. I don't need to let the Royals consume my life in order to be a fan. So I'm going to dial it back a little."
Rany Jazayerli, RanyontheRoyals.com
GH: Rany's post will send shockwaves through the Royals cyber fanbase. There is no one more loyal toward the Royals or more difficult to dissuade than Rany. If Rany goes, no fan is safe. Are the Royals listeneing?
"To be honest with you, we need to get out a can of whup-ass for about nine games and score a bunch of runs."
Jeff Francoeur, 810 AM
GH: Somebody sign up Frenchy for the Royals' marketing team.
"Down in Cleveland. Tomorrow is a new day. The season is young and I love my squad. Support thru this stretch has been 2nd to none. We got this."
Danny Duffy, @dduffkc23, Royals pitcher, Twitter
GH: A glimmer of hope here. Just a glimmer, but at least a small sign of hope. 
GregHall24@yahoo.com and Twitter / greghall24