"I've got to find that next Len Dawson, doggone it."
Andy Reid, on his search to fix the Chiefs' quarterback problem, 810 AM
GH: How incredibly sad and revealing is this simple statement from Reid? Len Dawson is a former AFL MVP whose list of contemporaries include Joe Namath, Daryle Lamonica, George Blanda and Jack Kemp. Trent Green had a decent run with the Chiefs but couldn't win a playoff game. The Chiefs choose Elvis Grbac over Rich Gannon – how different would Marty's end have been here if he had not made that error in judgment? The bare truth is that a franchise quarterback is simply the most important piece to any NFL team. How Andy Reid solves that riddle will determine his reign here in Kansas City.
"One thing that really concerns me about this – I'm not so sure he's going to take a quarterback number one. I'm really not."
Jack Harry, KSHB 41
GH: Is drafting a quarterback with the Chiefs number-one overall pick a necessity? Jack Harry and Kevin Kietzman believe it is. They are almost alone in that line of thinking. Read on.
"I don't think there is anybody to discuss. I don't see anybody in this year's draft that's going to force them up to the first pick in the draft."
Charley Casserly, of the NFL Network, when asked about the chance that the Chiefs might take a quarterback with their first pick, 610 AM
"I don't think the Chiefs will force it with that first pick. I think they'll wait till later and get it done then."
Adam Teicher, on the Chiefs drafting a quarterback with their first pick, 810 AM
"I think he'll pass and take a chance to find somebody a little later on."
Soren Petro, on Reid drafting a quarterback, 810 AM
"I think [Reid] is going to sign a veteran [QB] and have to trade down."
Jeff Chadiha, 810 AM
"I think this is a different situation. I don't think you can necessarily translate what [Reid] did in Philadelphia to what he will do here. I think this guy has his own ideas. I don't think you'll be able to stereotype his draft."
Adam Teicher, 810 AM
"They'll take some center from Claremont Mud."
Jayice Pearson, voicing his lack of confidence in the Chiefs' ability to draft, 610 AM
"I think one of these quarterbacks [in the upcoming draft] is going to be a Hall of Fame type player. I don't know which one but…"
Kevin Kietzman, while he interviewed Clark Hunt, 810 AM
GH: Kietzman hasn't been more adamant and defiant over a topic since he had Missouri joining the Big 10. KK doesn't want to even entertain any thoughts of the Chiefs NOT drafting a quarterback with their top pick. He thinks there is a HOF quarterback in this draft and the Chiefs' should have the scouts to identify that player. I wish it were that simple. The past 40 years of this franchise's history tells us it is not.
"I've been standing on the table for [AJ] McCarron all year & took him off my board when he said he was returning. Top QB in 2013 if he declares."
Shawn Zobel, @ShawnZobel_DHQ, Twitter
GH: McCarron played a game for the ages against Notre Dame Monday night. He looked poised, unbelievably accurate and again demonstrated he is a winner. His arm is just average, though. He rarely has been pressured in the pocket in his three years at Alabama because of the Tide's NFL-in-waiting offensive line. Is he the next Joe Willie or the next Brodie Croyle? I think he's more Brodie than Broadway.
"What if AJ McCarron decides to come out? Does that change the dynamic of the quarterback position [in the draft]? I think it does."
Adam Teicher, 810 AM
GH: McCarron stated in December he is returning to Alabama for his senior season but he could change his mind. He has until Tuesday to declare for the 2013 NFL draft. He may never be in a better situation than now to enter a draft with as many question marks at the quarterback position. I bet he goes.
"[McCarron] definitely has a chance to go in the top 10. If he wants to play in the NFL, there's no better time for him to come out then now."
Shawn Zobel, 610 AM
GH: The question on every NFL fan's mind? Will Katherine Webb be coming with him? Read on.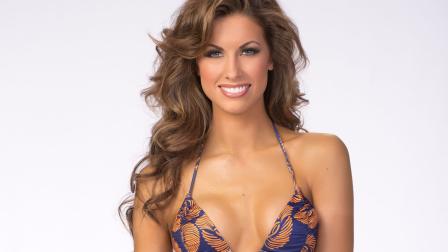 "You quarterbacks, you get all the good looking women. What a beautiful woman."
Brent Musburger, as the ESPN camera focused on Katherine Webb, the former Miss Alabama and current girlfriend of AJ McCarron, ESPN
GH: Musburger is far from my favorite play-by-play guy or even person. But the heat he has received for these innocent if odd comments is ridiculous. The ESPN camera shows Webb in the stands and she looks like a Maxim cover girl amidst a sea of uh, well, Alabama fans. What was Musburger supposed to do? Ignore Daisy Mae? Talk about her IQ? This is a former Miss Alabama who obviously understands her talents are camera friendly. Read on.
"Have been asked on focus on @_KatherineWebb in BCS: We always try to capture interesting storylines and the relationship between an Auburn grad who is Miss Alabama and the current Alabama quarterback certainly met that test. However, we apologize that the commentary in this instance went too far and Brent understands that."
Mike Soltys, ESPN
GH: ESPN must have felt the need to apologize for Musburger due to the public outcry on Twitter and elsewhere. Here's a news blast to anyone under the age of 50 – women do not become less attractive to old eyes. They just become less attainable. Musburger wasn't publicly leering, he was simply applauding.
"I laughed hysterically. I was flattered … and slightly embarrassed … but I thought it was the funniest thing ever. I never expected that. I've been reading on Twitter that Musburger had backlash that he's 'Creepy' … if I were to see him I would say, 'I don't think you're creepy at all!' "
Katherine Webb, TMZ.com
"On one hand, you can look at it as being kind of like the dirty old man, but I'm used to this and I think if you really look into what that he was trying to say, he was trying to be complimentary, and I think they need to give Brent a break."
Alan Webb, father of Katherine, FoxNews.com
GH: Here's another newsflash – every old man is a dirty old man. A line from the movie Liberal Arts fits well here. A retired college professor is counseling his now mid-30s former student about the former student's decision to date a 19-year-old coed. "Since I was 19," the old prof tells his smitten friend. "I've never felt like I was not 19." It is merely conscience, character and commonsense that allows the old men to hide their Musburger.
GregHall24@yahoo.com and Twitter / greghall24