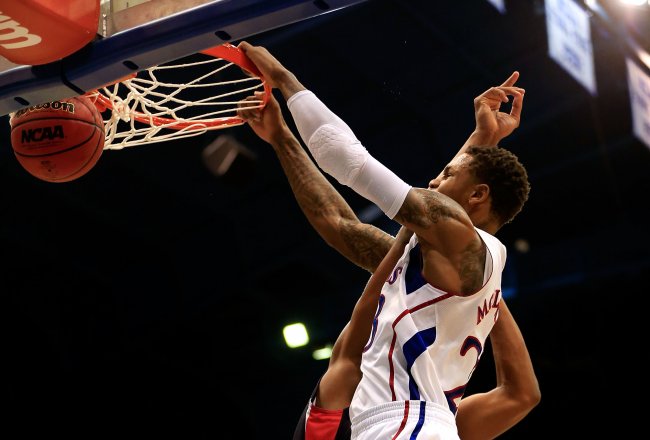 "I never thought before this season that this team could be ranked number-one at any point in time. Somebody's got to be number one."
Bill Self, when asked about the possibility of KU ascending to the top of the polls after a week fraught with upsets, 610 AM
GH: Kansas is officially number one in the coaches' poll as they prepare for tonight's 8:00 PM [CT] game at West Virginia. Michigan is number one in the AP poll. Kansas has won 17 straight – that kind of success is hard to ignore.
"Bob Huggins has 25K incentive in new contract for regular season wins over KU. Something to watch for on Big Monday from Morgantown."
Fran Fraschilla, @franfraschilla, Twitter
GH: Huh? $25K for beating a team in your conference? Isn't that what they hired Huggins to do and pay him his million-dollar salary to do anyway? Aaron Swarts pointed on Monday's Border Patrol that Frank Haith was paid a bonus of $25K for winning the Big 12 postseason tourney last year. I don't think Haith got an extra nickel for knocking off Kansas in Columbia – nor should he.
"What you're trying to get is a number-one seed, and [Kansas] is solidly a number-one seed right now. And the way that the Big 12 is…I would really be hard-pressed to think they are going to lose more than one or two in the Big 12…which would give them a number-one seed."
Dave Armstrong, 810 AM
GH: Kansas has not looked dominant during their current roll through the Big 12 but few think they will stub their beaks more than once or twice. But will that mellow-brick road prove to be costly come March? Read on.
"You know what I worry about with Kansas? They may become bored in this [Big 12] conference. I wish there were better teams in this conference. The thing is, the Big 10 is going to make the teams that come out of it very tough and very tournament ready."
Kevin Harlan, 810 AM
GH: Kansas appears adamant in creating pressure even when the opposition is Texas Tech…or any of the other Big 12 foes. With Mizzou no longer on their schedule, the next six weeks could be rather dull but profitable for Kansas and their NCAA seed.
"Is there a cause for concern with Kansas' offense?"
Nate Bukaty, on the sputtering offensive attack that continues to keep KU winning and their fans a bit on edge, 810 AM
GH: Elijah Johnson. If he gets his outside shot back, KU will win almost 40 games and be in the Final Four. If not, it could be a frustrating early out inside Sprint Center.
"Boy, they're starting to get lax on who they put up there."
Pete Enich, on Bill Self announcing that Mario Chalmers' jersey will be added to the hallowed rafters of KU's Allen Fieldhouse, 810 AM
GH: There is often a generational gap in opinion when it comes to retiring jerseys. The old guys hate to see the young guys alongside their heroes. The young guys want their guys to be recognized next to the dusty jersey from yesteryear. Does a player need to be a consensus All American to be knighted inside Allen Fieldhouse? I think not. Chalmers' shot and his game are more than enough.
"He was a physical presence that we did not do very well with."
Kevin Stallings, head basketball coach at Vanderbilt, on the dominating play of Mizzou's 6'9 255-pound Alex Oriakhi in the Tigers 81-59 blowout win at Mizzou Arena, Columbia Daily Tribune
GH: Mizzou is a maddening and remarkably talented basketball team. They looked like an NIT also ran against Ole Miss and Florida. Against Vandy, thoughts of the Final Four danced in my head. Frank Haith has assembled some big-time talent in Columbia. I hope he is able to take advantage of it because his Tigers are fun to watch when they get it rolling.
"If Haith had any thought to play [Laurence] Bowers, who was back in uniform for the first time since injuring his right knee in a collision with Pressey late in the second half of the SEC opener against Alabama on Jan. 8, the coach didn't act on it. There was simply no need with Missouri taking a 49-20 lead into halftime."
Steve Walentik, writer, Columbia Daily Tribune
GH: Mizzou had a 32-4 run in the first half against Vandy. 32-4! That is about as dominant as a team can get without scheduling Northern Illinois.
"Four points. One … two … three … four points is all the men's basketball team from Northern Illinois could manage during a first half for the record books on Saturday. Breaking their own NCAA Division I record for ineptitude, the Huskies made just one field goal before halftime against Eastern Michigan."
Associated Press
"WHAT: A major announcement regarding a gift to the University of Missouri. This gift will improve and enhance MU athletic facilities as Mizzou continues its transition to the SEC."
MU press release on Monday, January 28, 2012
GH: Mizzou may not be lighting the SEC up with wins on the field and court but there is no denying the move has been a cash windfall for the Tigers' facilities. Columbia, Missouri is transforming to meet their new conference's athletic standards. Whether that strikes you as good or bad, there is no going back.
"I felt like I had open shots against KU that just weren't falling. Coach got me in the gym and was working with me on my shot, trying to get it back to where it was. Coming into the game it felt good. I was just letting it fly."
Will Spradling, K-State's junior guard, Kansas City Star
GH: If Kansas' success in March hinges on EJ's outside jumper, so too does K-State need Spradling to get hot from trey land.
"The expectations of fans and people around you change. Maybe we didn't deal with it. Now we had a reality smack, and we have to get back at it. We have got to get back to where we were and do the things that give us a chance."
Bruce Weber, on the Cats losing two games after being 4-0 in the Big 12 and ranked 11th nationally, Kansas City Star
GH: The soft Big 12 will offer the Wildcats plenty of opportunity to win games. Weber should take advantage of every one of those weak sisters to build his team's NCAA seed. I think K-State can and will finish second to Kansas.
"Baylor. Even though they looked horrible against Kansas I still think they have the most talent [to finish second in the Big12]."
Dave Armstrong, 810 AM
GH: Baylor looks great but is far from filling. I just can't pick them over K-State and Iowa State.
GregHall24@yahoo.com and Twitter / greghall24