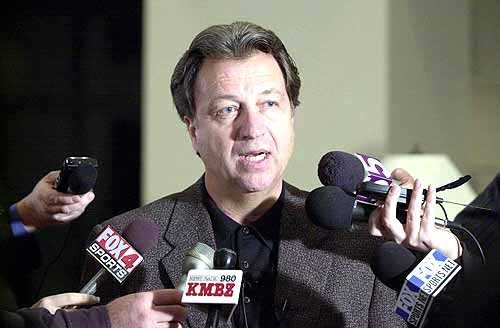 "Carl baited me and I took the bait."
Kevin Kietzman, after hearing Carl Peterson tell Soren Petro he would agree to an interview with Petro but not his "radio station itself," 810 AM
GH: I don't know if King Carl was really baiting KK or simply stating the obvious – he wanted to talk to only Petro because Petro has always treated Carl like a King.
"You don't forget when someone tries to get you fired. You don't forget that! … Shouldn't [Peterson] been doing something different than worrying about me on a Tuesday afternoon?"
Kevin Kietzman, reminding us again for the nth time that Carl Peterson once called his boss at Fox 4 and complained about KK, 810 AM
GH: Not only will KK not forget this – he wants to make sure his listeners never forget as well.
"I don't hold any grudges. I'd love to have him on."
Kevin Kietzman, 810 AM
GH: This is why Kietzman doesn't inspire me. He is very good at his craft but he too often is a phony as Scott Pioli when it comes to what he really thinks. Of course he holds a grudge against Peterson. But instead of laying down a scorched-earth path of verbal bile, KK tries to do a soft-shoe routine around the truth. When Kietzman went after Nebraska football and its fans a couple of years ago, it was one of the rare times I heard the real Kevin Kietzman speak his mind. He did some of the same when Mizzou made it known they were bolting for the SEC. But those were rare breath moments that he quickly moves beyond and covers up with fake professional fluff.
"[Scott Pioli] told Chad [Boeger he wouldn't come on 810 with me] because he thought our attacks on him were personal in nature. And I am flabbergasted by this! People who fail in their jobs and get fired are going to find something in their own mind that works for them as a reason why they didn't succeed. I believe where we are with Scott Pioli right now is he's in denial! He believes the media railroaded him in this town and he lost his job. This station has never been personal about Scott Pioli. Not one person!"
Kevin Kietzman, 810 AM
GH: I don't know why Kietzman is "flabbergasted" that Pioli perceives any criticism as "personal." I have some experience with criticizing the media for their work from time to time in a public forum. Some understand my words are simply my opinion. Some think I am Satan with a personal vendetta for them and their job. Kevin Kietzman isn't as different from Scott Pioli and Carl Peterson as he might like to think. Or maybe I'm wrong. I'll let you know when I hear from KK and he has me in studio for an on-air live interview.
"Missouri poorly prepared AGAIN to play on the road. No excuses. It's clearly on Frank Haith and his coaches. Never led worst team in SEC."
Jack Harry, @JackHarrytKSHB, Twitter
GH: Mad Jack is pointing his finger at Frank Haith for the Tigers disappointing play on the SEC road. Kim English, who has some inside knowledge of the Tiger basketball program, has a very different opinion of who should shoulder the blame. Read on.
"There's definitely been a lack of toughness from our [Missouri] players this season. I feel for the coach. I know how hard he works every week to get those guys ready. On game day you've got to look in the mirror as a player. Those guys got to answer the bell. I still think they can right this ship but they've got to be tougher and guard. It's tough to watch. I hope they get it together."
Kim English, current Detroit Piston and former MU baller who played for Frank Haith his senior year, 810 AM
GH: Somebody on the MU team should post English's frank comments on the locker room mirrors. This isn't some drunk on the TigerBoard calling out these young men. This is a former teammate.
"It was expensive. He sent me a picture of the ticket."
Kim English, on the Super Bowl ticket he purchased for his dad so that he could watch their hometown Baltimore Ravens play in New Orleans, 810 AM
"Absolutely not."
Kim English, when asked by Steven St. John if it would be difficult to root against former Mizzou football players, Justin and Alden Smith, who happen to play for San Francisco, 810 AM
"Sometimes people reach their peak at backup."
Bob Fescoe, to callers who were promoting the former MU quarterback, Chase Daniel, as a possible target for the Chiefs' quarterback solution, 610 AM
GH: I wonder if Fescoe knows what the word ironic means?
"In my top 30, I think 19 of them are Niners. That's a testament to how strong their roster is."
Matt Williamson, on his ranking of all 106 players in SB47, 810 AM
GH: Williamson ranks Ray Lewis 32nd. No word on whether that was pre or post deer antler spray. Knowing now that Ray likes a little antler in his nostrils kind of gives that turf-pawing dance of his new meaning.
"Just got to hotel & some hooker was wandering my floor looking for her 'friend's room.' My advice to her friend? Refund! Oy, she was hideous."
Jay Glazer, @JayGlazer, tweeting from the Super Bowl in New Orleans, Twitter
GH: Is Jay related to Craig?
GregHall24@yahoo.com and Twitter / greghall24