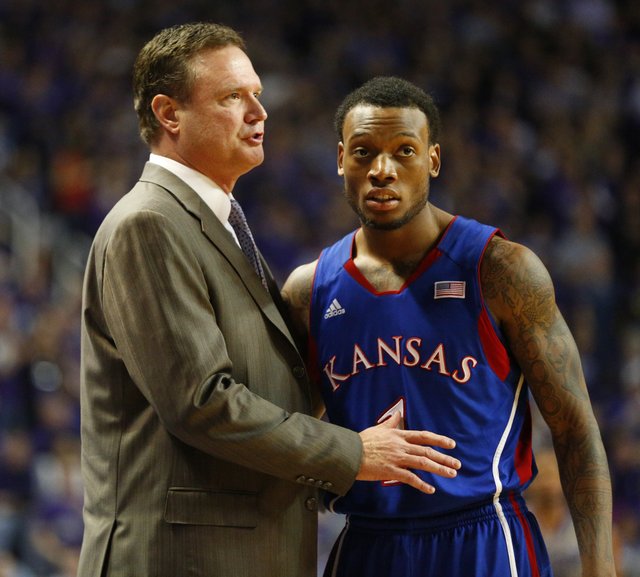 "Called this one. Knew Asbury's guys couldn't hang."
Kevin Kietzman, @kkwhb, about midway through the first half of Kansas' eventual 83-62 win over K-State, Twitter
GH: Asbury's guys??? KK doesn't appear to be happy with K-State being 19-5 and tied for first place in the Big 12. And they call Kansas fans unrealistic and spoiled?
"I'm starting to see why Kansas looks down on K-State the way they do."
Carrington Harrison, @cdotharrison, Twitter
GH: Kansas looks down on K-State for the same reason Kansas looks down on every college basketball program not called Duke, Carolina or Kentucky – they sit in a much more lofty perch in CBB's hierarchy. It's the kind of arrogance that comes with eight straight Big 12 conference titles. That kind of arrogance is well earned. BTW; check out KU fans in October and let me know how many are looking down on Bill Snyder's Wildcats.
"If KU were as good at Basketball as their fans were at gloating over lesser programs, they'd win the national title every year."
TJ Carpenter, @TJCarpenterWHB, Twitter
GH: It's called a rivalry, TJ. It's what rival schools do when one of them blows out the other on the court or the field. Check the KSU fans after their next blowout win over KU football. It's just what fans do.
"The speed in which KU fan has shifted from woe is me to back to their typical delusions has been with Usain Bolt quickness."
Carrington Harrison, @cdotharrison, Twitter
GH: This is how rivalries work, TJ. Carrington is a Mizzou fan but he still delights in calling out Kansas fans – just as they relish ripping his Tigers. How else do you explain a Mizzou fan calling another fan base delusional?
"That time of the game when i remind myself I'd rather lose a couple of bball games a year TO the Jayhawks than BE a Jayhawk. #Soreloser #KSU."
Eric Stonestreet, @ericstonestreet, Twitter
GH: The difference between the average Kansas, Kansas State and Missouri fan is so infinitesimal that your average east or west coast person lumps us all into one lump of cow shit and calls us, "Farmers."
"I called for Tharpe four weeks ago. Can I get some coach's pay? Sorry, Bill. Ur team is better with ball in his hands."
Kevin Kietzman, @kkwhb, Twitter
GH: I am going to chalk up KK's in-game tweets as possibly alcohol induced. Tharpe hasn't looked all that much better than Elijah Johnson the past four weeks. So KK wants credit for Naadir's breakout game? Then he needs to own Tharpe's play the rest of the season – which I believe is going to resemble his last month more than his aberration game at home against KSU.
"I don't want to take anything away from Naadir Tharpe, but give me a break with the 'we knew he was the guy all along!' crap."
TJ Carpenter, @TJCarpenterWHB, Twitter
GH: You just know TJ heard [or will hear] from KK after this tweet.
"I don't see an NBA player on K-State's team. Does anybody else see an NBA player on K-State's team? K-State did not have any ability when trying hard to close the gap."
Soren Petro, on why he was not at all surprised by Kansas easy win over K-State, 810 AM
GH: Who are the NBA players on TCU?
"Indians signed Michael Bourn today. While everyone's focused on Royals and Tigers… the Indians have probably done the most this offseason."
Soren Petro, @theprogram, in a tweet during the first half of the KSU/KU game, Twitter
GH: When it comes to college basketball, let's just say that Soren is not my first, second or third choice for news.
"McLemore was the biggest reason all that angst looked so silly by the end. In a program of Paul Pierce and Danny Manning, no first-year Jayhawk has ever scored like this, at least not since NCAA rules kept Wilt Chamberlain off varsity as a freshman."
Sam Mellinger, Kansas City Star
GH: McLemore looked legendary last night. Time and time again he floated to the apex of his jumper and then released a feathery arc that rippled the twine – exactly what he was born to do. McLemore is Beethoven, Robert Frost and Leonardo da Vinci in basketball shorts. He makes beautiful art and we are fortunate to be witness to his game.
"McLemore's gift and curse are both somewhere in those words. He is that rare superstar without ego, a man with a multimillion dollar future but without the pampered past that can get in the way. He is still getting used to his talent, in other words, learning what it's like for something as big as KU basketball to depend in large part on him showing his gifts."
Sam Mellinger, Kansas City Star
GH: There is likely not enough time in this season for McLemore to mature into the player we know beats within his chest. If he were to stay at Kansas another season, what we would experience in his sophomore year could be the stuff that would place him beside Wilt, Manning and Pierce. I hope McLemore gets a chance to talk to Michael Beasley before he declares for the NBA.
"Check the box score and there was one player for Kansas who played poorly and it was Elijah Johnson. It was all masked by McLemore's play."
Todd Leabo, 810 AM
GH: Man, EJ was bad again. Does Self sit him and start Tharpe? Probably not since he called EJ "my guy" and the horse he was going to ride. But it might be time for Self to saddle up that Naadir in his stable.
"There's loud, and then there's Rock Chalk Jayhawk loud."
@ESPN, Twitter
GH: A lot of college arenas are loud. Allen Fieldhouse isn't any louder than Bramlage or Mizzou Arena or Hilton Coliseum when the home teams in those barns are on a roll. But Allen Fieldhouse has an aura that opponents hate to hear about and few places are able to match.
"Mountaineer fans check out Allen Fieldhouse, great atmosphere, great students, this is how we need our student section all the time."
Bob Huggins, @CoachHuggs, Twitter
GH: The former K-State head coach and maybe the grumpiest head coach in college basketball was even impressed with the atmosphere at Allen Fieldhouse for the Sunflower Showdown. There are simply few sporting venues in the country that raise gooseflesh with suck ferocity. Even Missouri fans should make it a point to add attending a KU home game to their bucket list.
"If you had to take a drink every time the whistle blew tonight, you'd be passed out by halftime."
D. Scott Fritchen, @DScottFritchen, Twitter
GH: The officiating for this game was touch-tight for the first few minutes and it ruined the tempo of the game for me. Fran Fraschilla kept telling us how the referees needed to establish control of the game by all the quick whistles. Fran doesn't like to have anyone mad at him if that anyone happens to be a basketball coach or a referee. The refs were intimidated by Bill Self and the crowd – which is what usually happens on a home court.
"Bruce Weber just said to an official: 'What's he supposed to do, let him get a layup?' Frank Martin would have said something else."
Bob Lutz, @boblutz, Twitter
"So Danny Manning is at the Sunflower Showdown tonight. I mean because why would you be out recruiting & prepping for #Tulsa right."
Craig Brenner, @craig_a_brenner, Twitter
GH: Manning caught some heat on Twitter during the game for well…being at the game. I did not understand the criticism but there was plenty of it. Read on.
"Danny Manning should not be in the stands cheering for KU like a college kid. Dude is the Head coach at Tulsa, what an epic fail. … A lot of people would luv 2 go visit their son. DM shouldn't be there. But KU people have always lived in their own world, live it up #TCU."
John Renshaw, @johnrenshaw365, Twitter
GH: The Freak went wild after the ESPN camera spotted the former Jayhawk and Tulsa's head coach in the Allen Fieldhouse crowd. Manning's son plays for Kansas. Case closed.
"Danny Manning needs to let go of Kansas and focus on his own program. Bad look to show up with his pom-poms in Lawrence tonight. … I get that Manning's kid is a walk-on at KU. I just think it looks weird to be there when you have a program to run."
Dan Wolken, @DanWolken, Twitter
GH: Weird? What's weird is grown men who have nothing to do with either Manning or his son criticizing a dad for attending his kid's game. In a world where so many high profile athletes have multiple children with multiple baby mommas and varied degrees of interaction – the last problem I have is a father traveling from Tulsa to Lawrence on a Monday night to watch his son play basketball. What a joke that Renshaw and Wolken would take the time to complain about Manning being a father to his son for one night during the season.
"Finally, what do u mean Manning is cheering for his son? Evan Manning has played 21 minutes all year. What is he cheering? You sat well?"
John Renshaw, @johnrenshaw365, Twitter
GH: Yeah, those kids on the end of the bench don't need to see their parents in the stands. What do those worthless little bastards think this is, Disneyland? This is the mean streets of Tulsa basketball!
GregHall24@yahoo.com and Twitter / greghall24