This Boston Marathon will be remembered for the evil it suffered. And for the strength and resolve that evil begat. It will also be remembered as the Boston Marathon that united a bunch of strangers who all call Kansas City home.
So what happened to that happy band of brothers and sisters in the Boston Bound photo? Read on for Boston Bound – The Sequel!
Remember Matt Kruger? The cute little former high school cross country runner from Omaha who was running Boston with seven of his Wash U. teammates? 24-year-old Matt had flamed out in his first marathon but then rebounded to BQ with a stunning 2:39. He emailed me before our pasta dinner and told me how excited he was about his training and how he was expecting good things at Boston. His goal for Boston was a ridiculous 2:32.
Two things about that struck me as…well, dumb. Nobody goes to Boston as a rookie and knocks seven minutes off a 2:39 PR. The course is just an ass-kicker. Yeah, I know it's downhill for over three-fourths of the race. That is the problem! The downhill miles destroy your quads and hamstrings. You end up smiling at the Wellesley girls at Mile 13 but grimacing like a tortured zombie past Boston College and into downtown Boston the final four miles.
So I smiled when I read Matt's note and wished I too was still young and dumb…and fast. I just didn't know how fast. Matt laid down a time of 2:30.19 in his first roll from HopTown to Beantown. Read that time again. I'll wait.
He finished 87th overall. That is overall as in everybody who ran the race – all 27,000 runners. All the Kenyans. All the Ethiopians. All the Olympians. All the everybodies. EIGHTY-SEVENTH! When I announced Matt's bib number as #360, the room at the Boston Bound party gasped and cheered. He beat his seed by almost 300 places! And his seed was 360!
You don't know this so I will tell you – Matt is an even better guy than he is a runner – and the little dude can run a bit. I got a text the other day from one of my best friends in the entire galaxy, Jim Harris, an Omaha attorney. I hope you have a friend like Jim. He is the guy who is there when you need him – with whatever and how much ever you need – no questions asked. It has nothing to do with him being a lawyer. It has everything to do with him being a friend. So what does this have to do with Kruger?
Jim's text read: "I'm at lunch with Matt Kruger's mom, Monica. She's in my office. Said you threw a great dinner party."
How's 'dem apples, Boston?
I had never heard of Matt Kruger before Boston Bound KC. Now I will never forget him. That – THAT is what we need to take away from the 117th running of the Boston Marathon. Matt's story and so many more.
Peter Clume is the 41-year-old Lockton stud who squeaked into Boston by the slimmest of margins, nailing his needed 3:15 BQ on the schnozzle. As many of us were flying out of Boston's Logan Airport on Friday, Peter introduced me to his family – all who had traveled to watch him run his first Boston Marathon. Peter and his pretty wife have three gorgeous little blonde girls. His oldest daughter is 11 and she just won her first one-mile race at school in a time of 7:50. She beamed as she told me her time. Peter's parents were also in tow.
I thought of the carnage those cowardly bastards dealt to so many families near the finish line that probably look, smile and cry just like Peter's. I saw so many, many young children and parents along the marathon route. I want so much to see them all there again next year. I wanted to hug Peter's whole family and tell them how happy I was that their trip ended as a happy one.
John Eligon is 30 years old and lives in Kansas City while working for the New York Times. He covers Kansas City and the Midwest as his beat. But Monday he was running the Boston Marathon – and he was running it FAST. John finished in 3:00.54 (you know he is kicking himself for dawdling 55 seconds too long in that Wellesley kissing line).
John was back in his hotel when his boss called to tell him to go to work. Marathon soreness be damned, a reporter goes to cover the story when a story of this magnitude breaks.
"I love breaking news, so for me, all the thoughts of having just run the race and being sore left my head, and I put on my reporter's hat and went out to cover it as a news story," Eligon told The Huffington Post on Monday night.
I don't know about you, but running a three-hour marathon just before my night shift is not something I could do well…or even do really poorly. Mad props to John for doing what needed to be done in consideration of the circumstances. We saw so much of that in Boston on Monday.
Kim Gudenkauf was suffering from "survivor guilt" when she emailed me on Thursday. If you remember, Kim went from running in cotton t-shirts to now sporting $150 running shoes. Like a lot of us, Kim found it tough to deal with the aftermath of the attack.
"I too found that my drive into work on Tuesday had me wanting to bust out crying for what to most around us back in KC would seem like nothing," said Kim.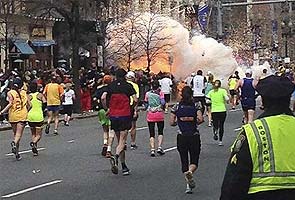 Many of us experienced lots of sleepless nights, fits of spontaneous crying and just an overall shakiness that we had lost some control of our lives.
Emotional trauma is real. I grew up in a tough family with 14 siblings from the same two parents. Yeah, my mom was pregnant most of her first 20-plus years of marriage. That makes a woman rather grumpy. She mothered like a staff sergeant and my dad parented like…, uh, like a guy with a big belt and a bigger voice. And he used them both to a ridiculous level of efficiency. In other words, I grew up saving my tears for what mattered.
Boston mattered. Big time. And I have cried a dozen times or more each day since returning from Boston. I cried typing emails. I cried in my car. I cried at my desk. I cried listening to a song. I cried watching a car commercial. I cried because I was crying for heaven's sake! The soul just needs to release some pent-up pressure sometimes and our tear ducts appear to be its best release valve.
Ali Hatfield, one of the three Lee's Summit girlfriends who all BQed and ran Boston together wrote on her MilesWithStyle.com blog Thursday, "I tried to go back to my routine yesterday…that was a mistake. I was not ready. People at work would ask me if I was okay, and I would cry. Then they would try to talk to me about actual work things, and I would cry…"
"For me, I have found comfort in reading other peoples stories that were there," Ali wrote in an email. "Hearing how they feel, and sharing my stories and feelings with them. I don't understand why I am so sad, because I was so lucky."
Yeah, Boston was real. But you know what else was real? Ali and her two chatty buddies, Stacy and Di, ran the Boston Marathon side by side for 26.2 miles. That has to be a chick thing. There is no way my buddy Yael Abouhalkah and I are tagging alongside each other for the length of a marathon. We are racing that sucker! Girls are built a little different – (especially those Wellesley girls).
The Three Amigettes ran across the finish line with the exact same finishing time – 3:54.35. They loped under the banners all holding raised hands with smiles on their faces wider than Nicki Minaj's backside. Booyah!
Tim Fritson, the Liberty High School cross country coach, worked for two years to convert himself from a college hurdler to a Boston Marathoner. He trained like an Olympian and viewed Boston as his coming out party. He expected a PR below 2:50. He missed it by eight minutes and the disappointment cut him deep.
"As I started down highway 135 out of Hopkinton, it only took about 3 miles to realize that my body just didn't have it," wrote Fritson on his Boston blog. "By the fourth mile, I knew that something just wasn't there. I can't put my finger on what didn't feel right. I wasn't breathing hard. I was nailing my desired paces. Despite the downhill nature of the course's early miles, it just seemed like my shoes were full of concrete and my legs were made of lead. Not a good combination for a guy who has 23 more miles before he hits a finish line."
Sometimes it just doesn't happen on race day. Ever heard of that one, Stan?
But Fritson's perspective was later shaped by the events of the day.
"Had I run as fast as I would have liked?" continued Fritson. "Nope. Did I beat as many people as I had set out to beat? Came up over 1,000 short. In the grand scheme of things, did it matter? Not really. For my wife, our friends, and me, life was going to go on. In the aftermath of Monday's events, that was a humbling reality. That was a blessing. We didn't do anything to deserve it."
61-year-old David Mellen lives in Stillwell, KS and has run ten marathons in ten years. The same one every year, Grandma's Marathon in Duluth. He missed his BQ every year for nine straight years. When he turned 60 he changed his training. "I quit running every day and did more cross training," said David. "I worked more on my core."
Success! David ran his second-fastest Grandma's Marathon after turning 60. And with the extra time for his BQ in his new age group, David was Boston Bound. Just one problem. Some lunatics decided to bomb the finish line and leave David stranded .7 miles from his 10-year goal. David is tough, though. Anyone who stays committed to a goal like David did – long after some of his friends had given up on his annual sojourn to Duluth – no bomb or two are going to deter him from trying again.
Chau Smith, the dainty Vietnamese-born 63/67-year-old wonder was also stopped short of the finish line. Garmin has planned a special finish-line celebration at the Olathe Marathon this Saturday. Chau and any other Boston runners who were denied the opportunity to run across the finish line on Boylston Street, have been invited to run the final .7 of a mile Saturday around noon. All the area Boston runners have been invited to attend – and from the looks of my email in box there are a LOT of us planning to be there to cheer Chau and the others across that pavement.
I have one last update for you. I saved the best for last.
Remember Ricky Mitchell? He was the buoyant fellow marathoner I jogged with in Boston who was jumping on sidewalk trampolines and popping into spectator's posed photographs. Well, get this…
Thursday morning I get an email that has "Ricky Mitchell" in the subject line. I opened it up to this…
Greetings, Greg!
My name is Elise Baker. I'm 38 years old and a longtime reader of your column … dating back to when you wrote for The Star. I was born and raised in the Kansas City area and went to college at Northwest Missouri State University. I intended to live all my life near KC, as I loved it so. But as fate would have it, I married a Soldier and we have lived all over the country and world.
Our last duty station prior to now being assigned in Hawaii was Fort Sam Houston in San Antonio, TX. There, I had the privilege of getting to know an awesome man by the name of Ricky Mitchell, a Major in the United States Army, whose son was in 1st grade with my daughter. He had just returned from a year deployment in Kuwait when I started seeing him on field trips and at school. I struck up a friendship with that charismatic guy, and he remains one of my best friends to this day.
He texted me from Boston after he had crossed the finish line, as I had asked him to do. His text said something to this effect: "I just finished!! Great race!! Hey, I heard some sort of explosion near the finish line … can you turn on the news and see what you can find out?"
I'm so thankful Ricky is okay and I am not surprised AT ALL by the spirit he showed while running. I am also not surprised AT ALL that he didn't tell you he was in the military. Thank you for highlighting an amazing person. He's an inspiration.
Keep writing great stuff, Greg! It was just random that we, here in Hawaii, read your column from Kansas City, about a good friend from San Antonio. I shared your column with Ricky, who was tickled.
Aloha and GO ROYALS and CHIEFS!!
Sincerely,
Elise Baker
How. Freaking. Cool. Is. That??? A woman in Hawaii who I have never heard of, who has been reading my column since 1996, reads my 2013 Boston Marathon story, recognizes her friend Ricky and then emails me in Kansas City!
I want to kiss Al Gore for inventing the Internet!
Okay, it gets better. I asked Elise to forward my email to Ricky. Before she even sent the email, Ricky responded with the note below.
Hello Greg,
It's Ricky Mitchell and I want to say it was an honor and privilege to meet you during our 26.2 mile journey. I also want to thank you for bringing a smile on so many who read your story. A friend of mine, who lives in Hawaii but from Kansas, was reading your article this morning and immediately texted me and sent me the story. Your story helps us remember the beauty of running a race and being in Boston.
I had such a great time throughout the race pretty much being me, dancing with groups of people, talking to complete strangers, and taking pictures with my wife's uncle and friends who have never missed a Boston marathon.
Your kind gesture to give your medal to a participant was heartfelt and demonstrates what being human is all about. I gave my medal to a first time finisher who also didn't get hers because of the chaos. I also read a story of a participant who gave his medal to a runner who didn't, and I believe that was a common act throughout the day of veterans embracing rookies. The bombings can never take away the smiles and joys we all experienced that day.
I wanted to make this my last Boston, but because of the events, I plan to run it again next year.
When I meet great people like you, the runners, and spectators, it reaffirms why I serve this wonderful country.
Thank you,
Mitchell, Ricky
MAJ, MSC
G35, Operations
USA MEDCOM
2748 Worth Rd, Ft. Sam Houston, TX
I do not ask much of my readers. I just don't think a writer has the right to expect his readers to do anything more than read. But this time I am making an exception.
While Ricky and I ran together for about four miles, there was one time when he broke away for a bit to jog next to a military unit in full gear who were marching the 26.2-mile course. I heard him almost whisper, "Hoorah, Corps!" He then slipped back into cadence with me and resumed discussing his wife, his in-laws and how he was planning to spot them along the course and stop to talk.
I have added Ricky's name and email to our Boston Bound KC family. He is one of us. If you ever get the chance to meet him, he will charm you, he will make you laugh and he will inspire you.
Here is my request of you, dear reader. Please email Ricky Mitchell right now and tell him how damn proud you are that he protects us, represents us and loves his country. This world needs more Ricky Mitchells. Now more than ever.
[email protected] and Twitter / greghall24