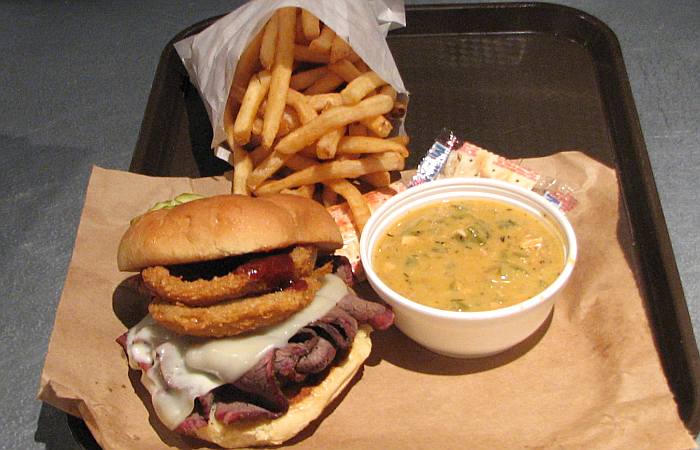 The Kansas City Star's Sam Mellinger was asked via Twitter what was the worst that could happen while KC hosts the All-Star Game.  Here is Sam's list of the top five…along with my OTC treatment.
1.       Oklahoma Joe's serves bad meat.
GH: Almost no chance of this happening, but OJ's is far from KC's signature BBQ joint. I love their food, fries and service but how "Kansas City" can a place be when they're from Oklahoma? When someone asks me where to get the best BBQ in town, I tell them Jack Stack's for brisket and beans, L.C.'s to avoid the crowds, Gates for the sauce and the spicy "HI, MAY I HELP YOU" greeting, Bryant's on Brooklyn for quantity and the original cuisine and OJ's for sandwiches and fries. Ribs are just too subjective to offer one definitive opinion. I like Jack Stack's baby backs but others prefer Gates' crunchy crust. Let's just say if you are from out of town, you have almost no chance of not being impressed with whatever BBQ fare you sample.
2.       Bud Selig faints from the heat.
GH: Selig going down here in Kansas City might earn our town legendary status. But the latest weather forecasts call for two of the summer's coolest days to land on Monday and Tuesday! Looks like most of the heat will be directed at Robinson Cano for his Billy Butler snub. Depending on how united Royals' fans get during the HR Derby, that scene could get pretty wild. Any chance Nate Bukaty goes White-Trash-Sox on Cano by jumping the rail and pummeling him in the on-deck circle?
3.       A tornado rips through the Plaza.
GH: If Aunty Em pays us a visit during All-Star week, almost every cliché and fear the coastal crowd harbors about this part of the country would take on biblical meaning. But tornado season ended in May, so we have a better chance of a cow or two getting loose and trampling a New Yorker.
4.       People see Kent Babb and think we're all like that.
GH: Babb is a USC grad – but not the good USC. He is a Gamecock from South Carolina. That is a Trojan of another color. While Babb (like most USC fans and grads) is likely still evolving, he is Einstein compared to 610's Bob Fescoe. If All-Star visitors hear Fescoe's show and think he grunts for us, expect the out-of-town media to paint us as if Jesse James still rides here.
5.       Carlos Beltran and Melky Cabrera hit back-to-back home runs to win it for the National League.
GH: This would be awful. I can imagine David Glass and Dayton Moore taking back-to-back swam dives out of the press box if this happens. And I wouldn't be too sure that they weren't pushed. How do you think the KC crowd will react to these formal Royals? Beltran is now a Cardinal so he has zero chance of getting any love. Melky was only here one season but he has Jonathan Sanchez's fallout to overcome. Both probably get Canoed.
"What would happen if we had a plane fly a banner over the stadium before the [All-Star] game that said, 'Sell the team.' Wouldn't that be a kick in the pants? … We've got other billionaires in this town that could buy and sell [David Glass] a couple of times over."
Kevin Kietzman, calling for Glass to sell the Royals, 810 AM
GH: Kietzman is pushing for the ownership group of Sporting Kansas City to buy the Royals. Garmin's CEO, Min Kao, lives in Mission Hills. According to Forbes he is worth $1.8 billion and the top-ranked KC-area person on their list of the 400 wealthiest people in America. Donald Hall of Hallmark is worth about $1 billion. The Forbes list shows no Kansas City, MO residents on its list of the 400 wealthiest people in America. Read on.
"Boy, you've got more money than you know what to do with if you're going to waste it on that thing. He ain't gonna sell the team, buddy."
Jack Harry, on KK's banner idea, 810 AM
GH: I think Glass loves being a MLB owner and I think MLB loves David Glass. But Dan Glass might be willing to sell the Royals if he and his family inherit the team. Can you imagine this franchise run by the ownership of Danny Boy? Beanies for everybody!
"Why doesn't one of these guys just step aside and let [Billy Butler] in there? There is no reason why you can't have a local guy in there."
Jack Harry, on Butler being left out of the All-Star home-run contest, 810 AM
GH: The solution is to include a hometown team of sluggers in the first round of the homerun derby. Allow the Royals to pick four players to compete with the four-player American and National teams. This would allow the best sluggers to participate from both leagues and give the hometown fans something to cheer. BTW, I found this analysis of the HR Derby online and it might be the most detailed breakdown on each contestant available.
"He reminds me of a young Buck Martinez. I wish! He's one of the best young catchers I've ever seen come into the game. Having watched him, he really understands that he's in charge of the game. And the pitchers trust him."
Buck Martinez, former Royals' catcher and current broadcaster for Toronto, when asked his opinion of the Royals' Salvador Perez, Royals Radio
GH: Perez is proving to be even better than advertised – and he has been advertised by some as the next Johnny Bench! When you consider the Royals best young players are at catcher, first, short and third, it makes you salivate for a great centerfielder to top off that core of talent. Is that Lorenzo Cain? Is it Wil Myers? How about Cain in center and Myers in right? That is a team that should be very fun to watch over the next five years – especially if Dayton Moore can find some pitching.
"We're going to get this pitching straightened out. I promise and guarantee you we're going to get this straightened out."
Dave Eiland, Royals' pitching coach, 610 AM
"Danny Parkinson? … You're shaking so much I thought you had Parkinson Disease."
George Brett, in typing a tweet as he spoke to Danny Parkins, the 610 Sports host, 610 AM
GH: Parkins sounded a bit miffed when he responded with, "I've never heard that joke, George." I thought it was an odd retort from Parkins, but maybe he thinks Brett should know who he is. Parkins must go through life disappointed much of the time.
"How can Major League Baseball possibly tell us that we can't put that in there? We're scared enough that we're covering [the ad] up. We had interns down here taping a gray piece of paper on all 30,000 copies. It's really hurt our distribution."
Kevin Kietzman, on an ad for country singer Luke Bryan promoted his appearance at a local venue in an All-Star Game publication produced by Union Broadcasting, 810 AM
GH: Bud Selig will be touring Kansas City neighborhoods this weekend to make sure your kids aren't playing with non-MLB trademarked equipment. Lew Perkins would fit in well with MLB.
"Johnny Damon's left arm doesn't stop the running game, it emboldens it. So when Damon throws out a runner, it's not just an assist, it's a happening. Well, a happening took place Wednesday and Damon missed it. He threw a strike from along the left field grandstand to get Albert Pujols trying to stretch a single into a double for the last out of the third inning, but instead of watching the play he was critiquing it with a fan. … After the third out, Damon sprinted toward the dugout slapping hands with fans along the grandstand. It was Damon's first assist since he recorded two in 2010 for the Tigers. Someone cue the music from the Twilight Zone because they were both against the Angels."
Paul Hoynes, writer, Cleveland Plain Dealer
GH: I still remember a quote from George Brett after he first saw Damon play as a Royals' rookie. "He throws like a girl!" How embarrassing for Fat Albert.
"Just had a dream that me, michael jackson, and taylor swift were playing knockout at the sprint center. Really?"
Danny Duffy, @dduffykc23, Royals' pitcher, Twitter
GH: Duffy might be the most uninhibited pro athlete on Twitter. Follow him before the Royals shut his account down.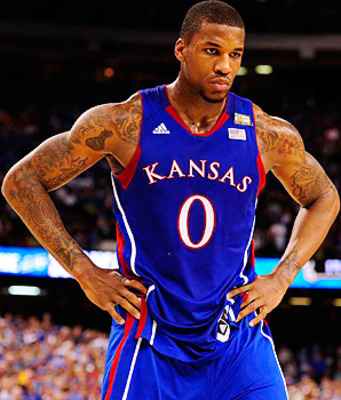 "I need to find a tatt artist n dc any help?"
Thomas Robinson, @Trobinson0, former Jayhawk and first-round pick of the NBA's Sacramento Kings, Twitter
GH: My first thought? Where on TRob's bod is there space for any more tattoos? Ouch!
"This is the first real social media Games and it's going to be a feel-as-you-go-along type of thing. It will be interesting to see how [Olympic officials] monitor 10,000 athletes' social media accounts. I feel I can represent my country and also run a successful business."
Nick Symmonds, the USA champion in the 800-meter race, on profiting from a temporary tattoo on his shoulder, USA Today
GH: According to USA Today, Symmonds received $11,100 to wear the tattoo. He covered the tattoo during the Olympic Trials in Eugene but it appears he might be willing to test the rules once he is loose on the London stage. Symmonds is worth tuning in to see. He runs like he lives his life, fast and hell bent for victory.
"Growing up in the 90s, I became a hip hop fan. I think I can hang right there with anybody. … No, I do not have any tattoos or piercings. "
Josh Vernier, new drive-time host on 610 Sports, 610 AM
GH: Milwaukee's Eminem?
[email protected] and Twitter / greghall24