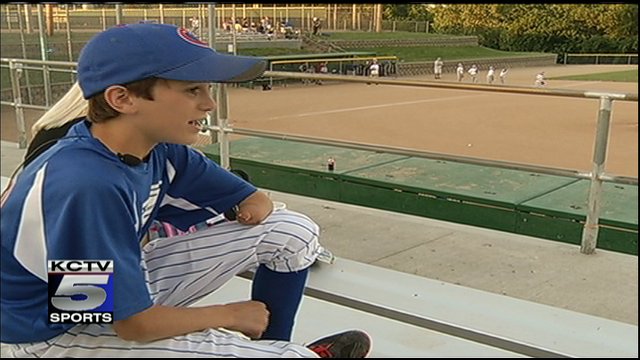 "Some people are told they were born with greatness.
Some people tell themselves."
*****
The Olympic Games tell great stories. This summer, one of our own Kansas City kids will have his own great story broadcast to the billion people around the globe who tune in to watch the Games.
Nate Muehe [pronounced MEW-ee] is a 13-year-old baseball player from Olathe. Nate tossed a perfect game last summer, limiting the opposition to no base runners over the four-inning blowout on just 19 pitches. And he managed this athletic feat with just one hand. Nate was born with Amniotic Band Syndrome, which resulted in his left arm ending just below his elbow, in a stumpy knob with a few nubs.
Brad Fanning, a sportscaster from KCTV 5, got a tip last year from some friends at the Johnson County 3&2 of Nate's perfect game. Fanning had played ball as a kid at the 3&2 and even worked there part time before getting back into television. Fanning and photojournalist Andy Sherer put together Nate's story and it aired on Kansas City's Channel 5.
In May, Fanning got a call from Dan Bell Casting Company out of Los Angeles. Bell was interested in locating Nate to possibly use him in a Nike commercial that would run on NBC during the Summer Olympics. Whoa.
Fanning did some research and found Bell to be legit. It turns out Bell is the same guy who produced the Mini Darth Vader ad for Volkswagen that ran during the 2011 Super Bowl. After months of don't-get-your-hopes-up cautionary thinking, Nate and his dad, Tony, made a trip out to Los Angeles in June to shoot the commercial with Nike.
While the ad is expected to make its television debut tonight [Friday, July 27th], Nate is already getting noticed by strangers. The other day while he waited his turn to register for his eighth-grade classes at Olathe's Prairie Trail Middle School, he was shocked to hear a lady screech and point at him. "I know you!" she wailed. "You're that kid in the Nike commercial!" Nate might want to start getting used to that kind of reaction.
Nate's mother, Christine Muehe, had posted a link to the ad on her Facebook page only the day before. "Social networking really is amazing," said Christine. "That link just got passed around to everybody! It really is NETWORKING!"
Christine sent a link on Thursday afternoon to Nate's personal pitching coach, Jaime Bluma, the former Royals' pitcher who now works at 68's Inside Sports. "We watched the commercial like 15 times already today," said a beaming Bluma. "His dad sent me the link about two hours later and I had to tell him, 'This is old news! This thing's already gone viral!"
Bluma has worked with other kids with physical limitations. He had a student once with two prosthetic legs who both pitched and played third. Another athlete had a similar arm issue as Nate's. He matured to play at Maplewoods College, the same junior college where Albert Pujols once played.
"Nate is a great kid," said Bluma. "You see a kid like that work and you wish every kid worked as hard as he does." Bluma was adamant that Nate's "little arm" would not be allowed to double as a crutch. "We treated him the same as every other kid from the first day he came in here," said the gruff but nurturing Bluma. "We made him do everything every other kid had to do and we gave him just as much crap while he was doing it."
In the Nike ad, Nate is shown in a slow-motion pitching wind-up as he releases a fastball to the batter in the foreground. His form looks to be that of a much older, more experienced pitcher. When asked to grade Nate's form from the commercial, Bluma gives his pupil a thumbs up. "I think he looks good in the video," said Bluma. "Since he can't really finish strong on his glove side, we work with him to really use his legs to create more velocity."
Nate's dad, Tony, made the trip to Los Angeles with his middle son. "It was Nate's first trip on an airplane," recalls Tony. The father and son pair had the last couple of boarding passes for their Southwest flight, which would have placed them in the back of the plane. Tony was presented a chance to upgrade one of their seats for $20. He presented the upgraded ticket to Nate, who would now be the third passenger to board. "Pick out a seat in the first three rows and I'll see you inside," were Tony's directions. When it was finally Tony's turn to board, he searched for his son in the crowded fuselage. "He had picked out a window seat right over the wing," chuckled Tony.
His mom calls Nate, "Your normal, average 13-year-old boy." After a recent frustrating head-to-head video-game battle with his younger brother, Matt, Nate told his sibling that he was adopted. Nate played wide receiver on his seventh grade football team and wrestled as a sixth grader. "He gets frustrated when we play card games," laughs Christine. "Holding 20 cards in one hand while playing Go Fish makes shuffling through them difficult."
Nate was presented with a prosthetic hand when he was in third grade. "He was excited about it, remembers Christine. "He took it to school and came home with it signed by all the kids, like it was a cast!" The prosthetic never really caught on though with Nate. "I think he ended up using it as a backscratcher," laughs Christine.
Due to some legal restrictions, the Muehes could not discuss many details about the commercial or the shoot. The only equipment Nate brought with him was his glove. The Tigers uniform he wears in the ad, the ballpark and even his teammates are all the stuff of Hollywood.
Nate does have some thoughts about LA and the Sherman Oaks area where they stayed during the shoot. "It's really big and really, really crowded," said the Olathe native. "I wasn't prepared for how crowded the highways were. I really didn't enjoy that." The ocean and beach, though, turned the Kansas kid's head. "When I was walking along the beach, I told my dad to tell mom I'm not coming home," said Nate. "Oh yeah, I want to move there!"
Nate's ad will be one in a series of Nike spots that celebrate ordinary greatness. When asked what he thought the first time he watched himself in a slow-motion TV ad, Nate gushed. "Oh my gosh! I can't believe I'm in a Nike commercial! I've always wanted to be in a Nike commercial!" His favorite Nike TV ad? "I like the one that says, 'My better is better than your better.' "
While Nate's disability landed him his dream commercial, he doesn't think of himself as any different than other kids. "I don't think I'm the best out there," he muses. "I know there are kids better than me. But I have a lot of confidence in what I can do."
Most people treat Nate like any other kid, but he does remember as a younger player watching the outfielders cheat forward when they spotted the one-handed kid coming to the plate. "After I crushed it over their heads, they started treating me normal too," said Nate.
Nate's world is about to become anything but "normal" after Friday night.
GregHall24@yahoo.com and Twitter / greghall24